About Us
Popadoms is a Indian takeaway in Newport. Why don't you try our Rogan Josh or Vindaloo?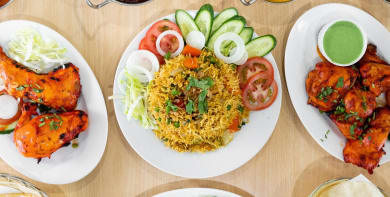 Reviews
285 reviews
simon
"I've been eating curry in Newport since 1985 and this place is just brilliant whether you're sitting down or having a takeaway.....can't recommend it enough!"
20/11/2020
gareth
"Never had a bad meal from here been going back for years. Keep up the good work and you will come out of this pandemic in the right way"
17/11/2020
Dave
"Always a good meal from Poppadoms and this was no exception. Top quality, great price and big portions"
06/11/2020
Tracey
"Lovely food, all was cooked beautifully, all was still hot on arrival. Arrived early. Would definitely recommend."
30/10/2020
Menu
Any Curry Sauce Plain Curry
£3.50
Special Fried Rice
Egg & peas
£3.40
Chor Chora Fish
King prawns flavoured with hand ground mustard seeds, garlic, bay leaves & coriander in a thick, medium spiced sauce. Served with pilau rice
Medium
£12.95
Ghandi Bhuna
Chicken tikka & spicy meatballs cooked with fresh spices, medium hot sauce. Served with pilau rice
Medium
£9.50
Guain Chicken Peri Peri
Succulent tandoori chicken on the bone, cooked in a fairly hot sauce with garlic & chillies. Served with pilau rice
Hot
£9.50
Handhi Murgh Khazana
Chicken tikka cooked with selected fresh vegetables using fresh herbs in a medium spicy sauce. Served with pilau rice
Medium
£8.95
Lamb Hari Hari
Succulent pieces of lamb cooked with fresh green chillies & herbs in a rich sauce. Served with pilau rice
Hot
£9.50
Murgh E Bahar
Marinated chicken breast stir fried with green peppers & onions in a rich, creamy sauce. Served with pilau rice
£8.95
Pasanda Chicken
Cooked with fresh cultured yoghurt & cream with mixed nuts, served with pilau rice
£8.95
Pasanda Lamb
Cooked with fresh cultured yoghurt & cream with mixed nuts, served with pilau rice
£8.95
Tandoori Murgh Masala
Marinated chicken & minced lamb cooked in a thick spicy masala sauce with egg. Served with pilau rice
£8.95
Tandoori Shashlik Chicken
Chicken or lamb pieces grilled in the tandoor with onions, tomato & green pepper. Served with masala sauce
£8.95
Tandoori Shashlik Lamb
Chicken or lamb pieces grilled in the tandoor with onions, tomato & green pepper. Served with masala sauce
£8.95
Tandoori Tikka Chicken Tikka
Chicken or lamb chunks flavoured with hand pounded whole spices, in a natural yoghurt marinade, roasted in a tandoori oven
£7.50
Tandoori Tikka Lamb Tikka
Chicken or lamb chunks flavoured with hand pounded whole spices, in a natural yoghurt marinade, roasted in a tandoori oven
£7.50
Tandoori King Prawn
King prawns in a light spicy yoghurt marinade grilled in a tandoor
£12.95
Tandoori Mixed Grill
Chicken tikka, lamb tikka, tandoori chicken, seekh kebab served with naan bread & masala sauce
£10.95
Tandoori Chicken
Half chicken on the bone, grilled in the tandoor
£7.95
Set Meal For Four
A delicious full menu specially prepared for two or four persons
Poppadoms & chutney
Mixed tandoori
Maharaja bhuna, lamb pasanda
Mushroom bhaji
Served with pilau rice & naan bread
£58.95
Set Meal For Two
A delicious full menu specially prepared for two or four persons
Poppadoms & chutney
Mixed tandoori
Maharaja bhuna, lamb pasanda
Mushroom bhaji
Served with pilau rice & naan bread
£31.95
Tandoori Chicken Biryani
Strips of tandoori chicken with fresh herbs & spices off the bone
£9.50
Poppadoms Special Biryani
Chicken, meat, prawn & mushroom with an omelette topping
£9.95
Garlic Mushrooms
Stir fried in a butter sauce with garlic & fenugreek
£3.25
Kebab Starter Seekh
Minced lamb fried with egg topping or roasted on skewers
£3.60
Kebab Starter Shami
Minced lamb fried with egg topping or roasted on skewers
£3.60
Chicken Pakora
Chicken tikka fillets in a spicy batter
£3.50
Chaat Aloo
Chicken or potatoes in a thick, tangy spicy sauce
£3.25
Chaat Chicken
Chicken or potatoes in a thick, tangy spicy sauce
£3.50
Prawn Puree
Succulent prawns simmered in light spices, served in a thin fried bread
£3.60
Tikka Starter Chicken
Marinated in fresh herbs & spices, grilled in a tandoor
£3.60
Tikka Starter Lamb
Marinated in fresh herbs & spices, grilled in a tandoor
£3.60
King Prawn Butterfly
Fresh water king prawn deep fried in special batter
£5.25
King Prawn Delight
Tandoori king prawn pan fried in a spicy masala sauce
£5.50
King Prawn Garlic
King prawn in a mild garlic sauce. Served with chapati
£5.50
Mixed Tandoori
Chicken tikka, lamb tikka & seekh kebab
£4.95
Mixed Thali
With bhaji, samosa, spicy kebab & chicken pakora ideal to share
£6.95
Korma Aloo Kofte
Spicy potato balls in a delicious mild, creamy sauce
£5.60
Balti Vegetable Masala
Mixed vegetable in a creamy, mild yoghurt
£5.60
Balti Vegetable Special
Fresh vegetable in a rich spicy sauce
£5.60
Jalfrezi Vegetable
Fairly hot, cooked with green chillies & fresh spices
£5.60
Dansak Chana
Vegetable or chickpeas in a hot, sweet & sour curry with lentils
£5.60
Dansak Vegetable
Vegetable or chickpeas in a hot, sweet & sour curry with lentils
£5.60
Chicken Paneer
Pieces of chicken, spinach & Indian cheese in a thick medium sauce
Medium
£6.50
Karahi Chicken Tikka
Cooked with chopped onions, sliced ginger, capsicum, tomatoes & fresh spices
Medium
£6.50
Karahi Lamb Tikka
Cooked with chopped onions, sliced ginger, capsicum, tomatoes & fresh spices
Medium
£6.50
Goa Green Chicken
Succulent pieces of chicken cooked in a variety of fresh green herbs & spices, green chillies & green beans
Fairly Hot
Hot
£6.50
Garlic Chicken
Chicken tikka cooked with garlic sauce, onions, tomato & fresh herbs
Medium
£6.50
Butter Chicken
A mild dish cooked with ghee & cream with a rich aroma
£6.50
Chicken Bombay
Chicken tikka cooked with egg & potatoes in a hot sauce
Hot
£6.50
Chicken Kohlapuri
Hot & spicy dish prepared with turmeric, jeera, coriander & fresh green chillies
Hot
£6.50
Jalfrezi Chicken Tikka
Chicken tikka or lamb tikka cooked with capsicum, chopped onions, fresh green chillies & herbs in a hot sauce
Very hot
£6.50
Jalfrezi Lamb Tikka
Chicken tikka or lamb tikka cooked with capsicum, chopped onions, fresh green chillies & herbs in a hot sauce
Very hot
£6.50
Maharajah Bhuna
Chicken tikka & minced lamb cooked with sliced onions, green peppers, ginger & garlic with fresh herbs in a medium curry
Medium
£6.50
Makhani Chicken
A mild dish cooked with fresh cream, ground almonds & coconuts with a touch of masala spices
£6.50
Tikka Masala Chicken Tikka
Tender pieces of chicken or lamb cooked in a mild, creamy sauce
£6.50
Tikka Masala Lamb Tikka
Tender pieces of chicken or lamb cooked in a mild, creamy sauce
£6.50
Lahore Balti
Chicken tikka, spinach & potatoes. Fairly Hot
Hot
£7.95
Chicken & Mushroom Balti
Medium
£7.95
Balti Exotic
With chicken, meat, prawns & spinach
Medium
£7.25
Collection Special Regular
• Any 2 curries
• Any 2 rice or chips
• Plain naan
• Poppadoms
• Mint sauce
• Onion salad
(Other naan additional 75p extra, Balti additional £1.00, Tandoori Tikka addtional £1.00)
£13.50
Collection Special Biryani
• Any 2 curries
• Any 2 rice or chips
• Plain naan
• Poppadoms
• Mint sauce
• Onion salad
(Other naan additional 75p extra, Balti additional £1.00, Tandoori Tikka addtional £1.00)
£17.50
Bhuna Chicken
Cooked with onions, green peppers & tomatoes in a thick sauce
Medium
£5.95
Bhuna King Prawn
Cooked with onions, green peppers & tomatoes in a thick sauce
Medium
£10.95
Bhuna Meat
Cooked with onions, green peppers & tomatoes in a thick sauce
Medium
£5.95
Bhuna Prawn
Cooked with onions, green peppers & tomatoes in a thick sauce
Medium
£5.95
Bhuna Vegetable
Cooked with onions, green peppers & tomatoes in a thick sauce
Medium
£5.95
Dansak Chicken
With lentils & fenugreek in a thick, hot, sweet & sour sauce
Hot
£5.95
Dansak King Prawn
With lentils & fenugreek in a thick, hot, sweet & sour sauce
Hot
£10.95
Dansak Meat
With lentils & fenugreek in a thick, hot, sweet & sour sauce
Hot
£5.95
Dansak Prawn
With lentils & fenugreek in a thick, hot, sweet & sour sauce
Hot
£5.95
Dansak Vegetable
With lentils & fenugreek in a thick, hot, sweet & sour sauce
Hot
£5.95
Dopiaza Chicken
With onions, peppers, garlic, ginger & tomatoes
Medium
£5.95
Dopiaza King Prawn
With onions, peppers, garlic, ginger & tomatoes
Medium
£10.95
Dopiaza Meat
With onions, peppers, garlic, ginger & tomatoes
Medium
£5.95
Dopiaza Prawn
With onions, peppers, garlic, ginger & tomatoes
Medium
£5.95
Dopiaza Vegetable
With onions, peppers, garlic, ginger & tomatoes
Medium
£5.95
Madras Chicken
Cooked in a hot sauce
£5.95
Madras Meat
Cooked in a hot sauce
£5.95
Madras Prawn
Cooked in a hot sauce
£5.95
Madras Vegetable
Cooked in a hot sauce
£5.95
Madras King Prawn
Cooked in a hot sauce
£10.95
Korma Chicken
With ground coconut & almond in a cream sauce
£5.95
Korma King Prawn
With ground coconut & almond in a cream sauce
£10.95
Korma Meat
With ground coconut & almond in a cream sauce
£5.95
Korma Prawn
With ground coconut & almond in a cream sauce
£5.95
Korma Vegetable
With ground coconut & almond in a cream sauce
£5.95
Pathia Chicken
With onions, fresh herbs & spices in a hot, sweet & sour sauce
Hot
£5.95
Pathia King Prawn
With onions, fresh herbs & spices in a hot, sweet & sour sauce
Hot
£10.95
Pathia Meat
With onions, fresh herbs & spices in a hot, sweet & sour sauce
Hot
£5.95
Pathia Prawn
With onions, fresh herbs & spices in a hot, sweet & sour sauce
Hot
£5.95
Pathia Vegetable
With onions, fresh herbs & spices in a hot, sweet & sour sauce
Hot
£5.95
Vindaloo Chicken
Cooked in a very hot sauce
Very Hot
£5.95
Vindaloo King Prawn
Cooked in a very hot sauce
Very Hot
£10.95
Vindaloo Meat
Cooked in a very hot sauce
Very Hot
£5.95
Vindaloo Prawn
Cooked in a very hot sauce
Very Hot
£5.95
Vindaloo Vegetable
Cooked in a very hot sauce
Very Hot
£5.95
Rogan Josh Chicken
With green herbs & spices, garlic, onions & tomatoes
Medium
£5.95
Rogan Josh King Prawn
With green herbs & spices, garlic, onions & tomatoes
Medium
£10.95
Rogan Josh Meat
With green herbs & spices, garlic, onions & tomatoes
Medium
£5.95
Rogan Josh Prawn
With green herbs & spices, garlic, onions & tomatoes
Medium
£5.95
Rogan Josh Vegetable
With green herbs & spices, garlic, onions & tomatoes
Medium
£5.95
Saag Chicken
With spinach, garlic, ginger & tomatoes
Medium
£5.95
Saag King Prawn
With spinach, garlic, ginger & tomatoes
Medium
£10.95
Saag Meat
With spinach, garlic, ginger & tomatoes
Medium
£5.95
Saag Prawn
With spinach, garlic, ginger & tomatoes
Medium
£5.95
Saag Vegetable
With spinach, garlic, ginger & tomatoes
Medium
£5.95
Contact Us
Find Us
11 High Street, Newport, NP201FQ
We deliver to
NP10, NP18, NP19, NP20