About Us
Popadoms is a Indian takeaway in Newport. Why don't you try our Rogan Josh or Vindaloo?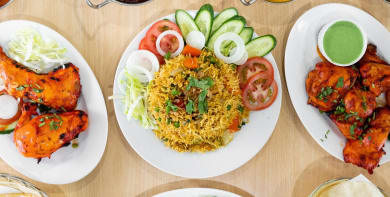 Reviews
285 reviews
Joseph
"Beautiful curry and slightly earlier which was lovely"
29/06/2020
Alex
"Was a little late but very worth it. Food was lovely. Great quality and big portions for a very good price. Will definitely be ordering again :)"
28/06/2020
Phil
"Excellent"
27/06/2020
Ashley
"amazing food absolutely spot on !!!"
13/06/2020
Menu
Any Curry Sauce Plain Curry
£3.50
Special Fried Rice
Egg & peas
£3.40
Chor Chora Fish
King prawns flavoured with hand ground mustard seeds, garlic, bay leaves & coriander in a thick, medium spiced sauce. Served with pilau rice
Medium
£12.95
Ghandi Bhuna
Chicken tikka & spicy meatballs cooked with fresh spices, medium hot sauce. Served with pilau rice
Medium
£9.50
Guain Chicken Peri Peri
Succulent tandoori chicken on the bone, cooked in a fairly hot sauce with garlic & chillies. Served with pilau rice
Hot
£9.50
Handhi Murgh Khazana
Chicken tikka cooked with selected fresh vegetables using fresh herbs in a medium spicy sauce. Served with pilau rice
Medium
£8.95
Lamb Hari Hari
Succulent pieces of lamb cooked with fresh green chillies & herbs in a rich sauce. Served with pilau rice
Hot
£9.50
Murgh E Bahar
Marinated chicken breast stir fried with green peppers & onions in a rich, creamy sauce. Served with pilau rice
£8.95
Pasanda Chicken
Cooked with fresh cultured yoghurt & cream with mixed nuts, served with pilau rice
£8.95
Pasanda Lamb
Cooked with fresh cultured yoghurt & cream with mixed nuts, served with pilau rice
£8.95
Tandoori Murgh Masala
Marinated chicken & minced lamb cooked in a thick spicy masala sauce with egg. Served with pilau rice
£8.95
Tandoori Shashlik Chicken
Chicken or lamb pieces grilled in the tandoor with onions, tomato & green pepper. Served with masala sauce
£8.95
Tandoori Shashlik Lamb
Chicken or lamb pieces grilled in the tandoor with onions, tomato & green pepper. Served with masala sauce
£8.95
Tandoori Tikka Chicken Tikka
Chicken or lamb chunks flavoured with hand pounded whole spices, in a natural yoghurt marinade, roasted in a tandoori oven
£7.50
Tandoori Tikka Lamb Tikka
Chicken or lamb chunks flavoured with hand pounded whole spices, in a natural yoghurt marinade, roasted in a tandoori oven
£7.50
Tandoori King Prawn
King prawns in a light spicy yoghurt marinade grilled in a tandoor
£12.95
Tandoori Mixed Grill
Chicken tikka, lamb tikka, tandoori chicken, seekh kebab served with naan bread & masala sauce
£10.95
Tandoori Chicken
Half chicken on the bone, grilled in the tandoor
£7.95
Set Meal For Four
A delicious full menu specially prepared for two or four persons
Poppadoms & chutney
Mixed tandoori
Maharaja bhuna, lamb pasanda
Mushroom bhaji
Served with pilau rice & naan bread
£58.95
Set Meal For Two
A delicious full menu specially prepared for two or four persons
Poppadoms & chutney
Mixed tandoori
Maharaja bhuna, lamb pasanda
Mushroom bhaji
Served with pilau rice & naan bread
£31.95
Tandoori Chicken Biryani
Strips of tandoori chicken with fresh herbs & spices off the bone
£9.50
Poppadoms Special Biryani
Chicken, meat, prawn & mushroom with an omelette topping
£9.95
Garlic Mushrooms
Stir fried in a butter sauce with garlic & fenugreek
£3.25
Kebab Starter Seekh
Minced lamb fried with egg topping or roasted on skewers
£3.60
Kebab Starter Shami
Minced lamb fried with egg topping or roasted on skewers
£3.60
Chicken Pakora
Chicken tikka fillets in a spicy batter
£3.50
Chaat Aloo
Chicken or potatoes in a thick, tangy spicy sauce
£3.25
Chaat Chicken
Chicken or potatoes in a thick, tangy spicy sauce
£3.50
Prawn Puree
Succulent prawns simmered in light spices, served in a thin fried bread
£3.60
Tikka Starter Chicken
Marinated in fresh herbs & spices, grilled in a tandoor
£3.60
Tikka Starter Lamb
Marinated in fresh herbs & spices, grilled in a tandoor
£3.60
King Prawn Butterfly
Fresh water king prawn deep fried in special batter
£5.25
King Prawn Delight
Tandoori king prawn pan fried in a spicy masala sauce
£5.50
King Prawn Garlic
King prawn in a mild garlic sauce. Served with chapati
£5.50
Mixed Tandoori
Chicken tikka, lamb tikka & seekh kebab
£4.95
Mixed Thali
With bhaji, samosa, spicy kebab & chicken pakora ideal to share
£6.95
Korma Aloo Kofte
Spicy potato balls in a delicious mild, creamy sauce
£5.60
Balti Vegetable Masala
Mixed vegetable in a creamy, mild yoghurt
£5.60
Balti Vegetable Special
Fresh vegetable in a rich spicy sauce
£5.60
Jalfrezi Vegetable
Fairly hot, cooked with green chillies & fresh spices
£5.60
Dansak Chana
Vegetable or chickpeas in a hot, sweet & sour curry with lentils
£5.60
Dansak Vegetable
Vegetable or chickpeas in a hot, sweet & sour curry with lentils
£5.60
Chicken Paneer
Pieces of chicken, spinach & Indian cheese in a thick medium sauce
Medium
£6.50
Karahi Chicken Tikka
Cooked with chopped onions, sliced ginger, capsicum, tomatoes & fresh spices
Medium
£6.50
Karahi Lamb Tikka
Cooked with chopped onions, sliced ginger, capsicum, tomatoes & fresh spices
Medium
£6.50
Goa Green Chicken
Succulent pieces of chicken cooked in a variety of fresh green herbs & spices, green chillies & green beans
Fairly Hot
Hot
£6.50
Garlic Chicken
Chicken tikka cooked with garlic sauce, onions, tomato & fresh herbs
Medium
£6.50
Butter Chicken
A mild dish cooked with ghee & cream with a rich aroma
£6.50
Chicken Bombay
Chicken tikka cooked with egg & potatoes in a hot sauce
Hot
£6.50
Chicken Kohlapuri
Hot & spicy dish prepared with turmeric, jeera, coriander & fresh green chillies
Hot
£6.50
Jalfrezi Chicken Tikka
Chicken tikka or lamb tikka cooked with capsicum, chopped onions, fresh green chillies & herbs in a hot sauce
Very hot
£6.50
Jalfrezi Lamb Tikka
Chicken tikka or lamb tikka cooked with capsicum, chopped onions, fresh green chillies & herbs in a hot sauce
Very hot
£6.50
Maharajah Bhuna
Chicken tikka & minced lamb cooked with sliced onions, green peppers, ginger & garlic with fresh herbs in a medium curry
Medium
£6.50
Makhani Chicken
A mild dish cooked with fresh cream, ground almonds & coconuts with a touch of masala spices
£6.50
Tikka Masala Chicken Tikka
Tender pieces of chicken or lamb cooked in a mild, creamy sauce
£6.50
Tikka Masala Lamb Tikka
Tender pieces of chicken or lamb cooked in a mild, creamy sauce
£6.50
Lahore Balti
Chicken tikka, spinach & potatoes. Fairly Hot
Hot
£7.95
Chicken & Mushroom Balti
Medium
£7.95
Balti Exotic
With chicken, meat, prawns & spinach
Medium
£7.25
Collection Special Regular
• Any 2 curries
• Any 2 rice or chips
• Plain naan
• Poppadoms
• Mint sauce
• Onion salad
(Other naan additional 75p extra, Balti additional £1.00, Tandoori Tikka addtional £1.00)
£13.50
Collection Special Biryani
• Any 2 curries
• Any 2 rice or chips
• Plain naan
• Poppadoms
• Mint sauce
• Onion salad
(Other naan additional 75p extra, Balti additional £1.00, Tandoori Tikka addtional £1.00)
£17.50
Bhuna Chicken
Cooked with onions, green peppers & tomatoes in a thick sauce
Medium
£5.95
Bhuna King Prawn
Cooked with onions, green peppers & tomatoes in a thick sauce
Medium
£10.95
Bhuna Meat
Cooked with onions, green peppers & tomatoes in a thick sauce
Medium
£5.95
Bhuna Prawn
Cooked with onions, green peppers & tomatoes in a thick sauce
Medium
£5.95
Bhuna Vegetable
Cooked with onions, green peppers & tomatoes in a thick sauce
Medium
£5.95
Dansak Chicken
With lentils & fenugreek in a thick, hot, sweet & sour sauce
Hot
£5.95
Dansak King Prawn
With lentils & fenugreek in a thick, hot, sweet & sour sauce
Hot
£10.95
Dansak Meat
With lentils & fenugreek in a thick, hot, sweet & sour sauce
Hot
£5.95
Dansak Prawn
With lentils & fenugreek in a thick, hot, sweet & sour sauce
Hot
£5.95
Dansak Vegetable
With lentils & fenugreek in a thick, hot, sweet & sour sauce
Hot
£5.95
Dopiaza Chicken
With onions, peppers, garlic, ginger & tomatoes
Medium
£5.95
Dopiaza King Prawn
With onions, peppers, garlic, ginger & tomatoes
Medium
£10.95
Dopiaza Meat
With onions, peppers, garlic, ginger & tomatoes
Medium
£5.95
Dopiaza Prawn
With onions, peppers, garlic, ginger & tomatoes
Medium
£5.95
Dopiaza Vegetable
With onions, peppers, garlic, ginger & tomatoes
Medium
£5.95
Madras Chicken
Cooked in a hot sauce
£5.95
Madras Meat
Cooked in a hot sauce
£5.95
Madras Prawn
Cooked in a hot sauce
£5.95
Madras Vegetable
Cooked in a hot sauce
£5.95
Madras King Prawn
Cooked in a hot sauce
£10.95
Korma Chicken
With ground coconut & almond in a cream sauce
£5.95
Korma King Prawn
With ground coconut & almond in a cream sauce
£10.95
Korma Meat
With ground coconut & almond in a cream sauce
£5.95
Korma Prawn
With ground coconut & almond in a cream sauce
£5.95
Korma Vegetable
With ground coconut & almond in a cream sauce
£5.95
Pathia Chicken
With onions, fresh herbs & spices in a hot, sweet & sour sauce
Hot
£5.95
Pathia King Prawn
With onions, fresh herbs & spices in a hot, sweet & sour sauce
Hot
£10.95
Pathia Meat
With onions, fresh herbs & spices in a hot, sweet & sour sauce
Hot
£5.95
Pathia Prawn
With onions, fresh herbs & spices in a hot, sweet & sour sauce
Hot
£5.95
Pathia Vegetable
With onions, fresh herbs & spices in a hot, sweet & sour sauce
Hot
£5.95
Vindaloo Chicken
Cooked in a very hot sauce
Very Hot
£5.95
Vindaloo King Prawn
Cooked in a very hot sauce
Very Hot
£10.95
Vindaloo Meat
Cooked in a very hot sauce
Very Hot
£5.95
Vindaloo Prawn
Cooked in a very hot sauce
Very Hot
£5.95
Vindaloo Vegetable
Cooked in a very hot sauce
Very Hot
£5.95
Rogan Josh Chicken
With green herbs & spices, garlic, onions & tomatoes
Medium
£5.95
Rogan Josh King Prawn
With green herbs & spices, garlic, onions & tomatoes
Medium
£10.95
Rogan Josh Meat
With green herbs & spices, garlic, onions & tomatoes
Medium
£5.95
Rogan Josh Prawn
With green herbs & spices, garlic, onions & tomatoes
Medium
£5.95
Rogan Josh Vegetable
With green herbs & spices, garlic, onions & tomatoes
Medium
£5.95
Saag Chicken
With spinach, garlic, ginger & tomatoes
Medium
£5.95
Saag King Prawn
With spinach, garlic, ginger & tomatoes
Medium
£10.95
Saag Meat
With spinach, garlic, ginger & tomatoes
Medium
£5.95
Saag Prawn
With spinach, garlic, ginger & tomatoes
Medium
£5.95
Saag Vegetable
With spinach, garlic, ginger & tomatoes
Medium
£5.95
Contact Us
Find Us
11 High Street, Newport, NP201FQ
We deliver to
NP10, NP18, NP19, NP20